Use the Button Below to Schedule an Appointment
Please arrive 10 minutes before your appointment to get checked in
If you are running late, call us at 775-851-7626 and we will try to adjust the schedule
If you are a "No Call No Show" you will have to prepay for your next appointment

A 3D/4D ultrasound does not require a doctor's order, but we do require that you have been examined or are currently under the care of an OB or midwife.  If you are "full-bodied" or having twins, please call our office at 775-851-7626 as you will need a 30 minute appointment.
Please book a package that is within your pregnancy time frame, as this will help you get the best outcome possible.
We may not be able to see you if you book an appointment outside of the pregnancy time frame.   
Scheduling Requirements
YOU MUST ARRIVE 10 MINUTES BEFORE YOUR APPOINTMENT to fill out paper work, especially for Gender Checks, as the appointment is only 15 minutes.  If you are late, we may have to reschedule you.   Please call us when you arrive and we will bring paper work to your car.
We will need to know:
How many weeks pregnant you will be at the time of your appointment

Your current OB, midwife or clinic
*You must have already been seen by your current health care provider for this pregnancy.
CANCELLATION POLICY
If you have to reschedule or cancel your appointment, please notify us 24 hours in advance. "No Call No Shows" will have to prepay for your next appointment.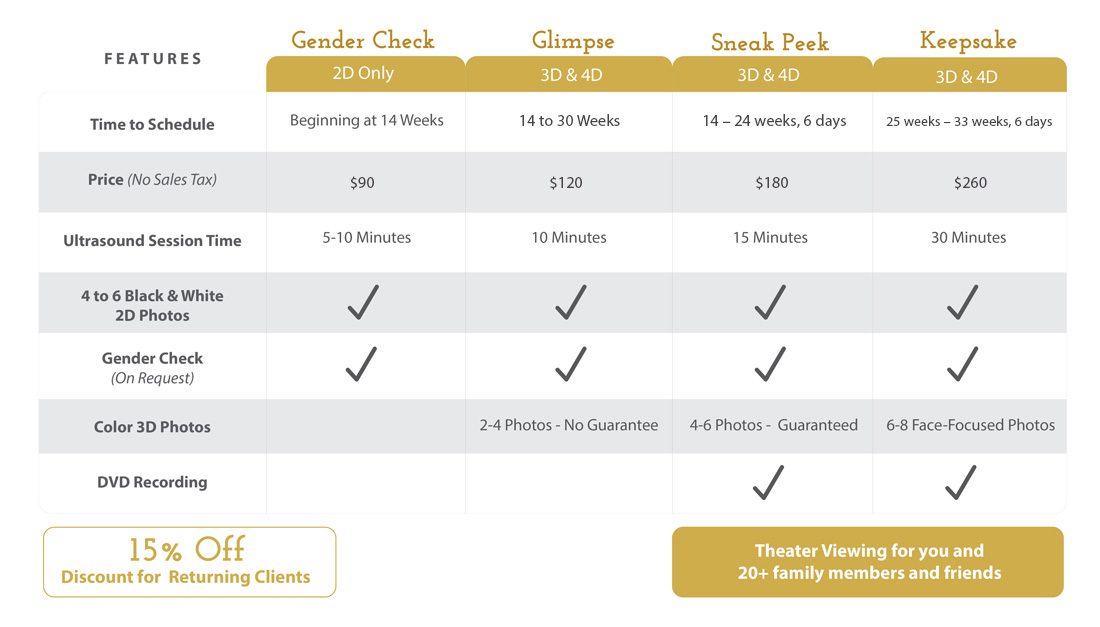 If you are having twins and want a Gender Check, please click the "Gender Check – Twins" package ($160) on the Scheduling page. We will need 30 minutes to check out both babies!
Please use the button above to schedule your appointment, or call us a 775-851-7626. If you don't see a time that works for you, please call our office and we will do our best to accommodate you.
We accept debit, credit and cash. (No checks, No HSA, FSA or HRA cards)