For all expectant families out there, you can now see your unborn baby in live 4D motion! 3D Keepsake Imaging uses cutting edge technology to bring 4D and 3D ultrasound images of your unborn baby to life. You can actually see what your baby is going to look like before birth!
At 3D Keepsake Imaging, we recognize what a very special time this is in your lives. We are excited and proud to be able to provide you with an experience that will have you laugh, cry and be amazed. Using our "state of the art" 4D technology in a relaxed, friendly environment, we welcome you and your family to enjoy these first bonding moments with your baby. Our "living room" type viewing room will ensure your utmost comfort and our 80" television will provide everyone the best seat in the house.
Our roots run deep here in Northern Nevada and since 2007 we have been offering this amazing experience to families from near and far!
Like us on Facebook to keep up to date with our latest specials and monthly giveaways!
Our business hours are by appointment and we have a wide variety of times available including evenings and Saturdays.  Please call us at 775-851-7626 or click on our convenient "Schedule Now" button to schedule your ultrasound.
* Enjoy extra savings when you purchase our Pre-Pay combos! See pricing page for details.
* Se habla español.
* Gender determination starting at 14 weeks. If you are at least 14 weeks, we include our gender GUARANTEE. If for any reason we cannot determine your baby's gender, we will perform a re-scan for FREE!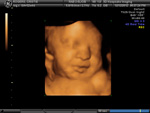 Take a peek at our adorable babies! See what your baby will look like in 3D at 14-34 weeks. Also see our AMAZING before and after shots.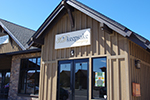 We're conveniently located off of 395/580 on Foothill Road. Check out our new and upgraded viewing room!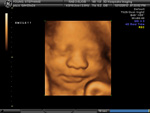 We have an array of packages starting at 14 weeks. Discounts are available for repeat visits and military families.